Woods Gulch Trail Missoula
One of my favorite bike rides is the Woods Gulch trail in Missoula.  To get there go up Rattlesnake Drive and at the entrance to the Rattlesnake Recreation Area take a right turn instead of going left to the Main Trailhead.  You will go about a half mile up Woods Gulch road.  The road turns into a private road and there are a couple of parking spots at the little trail head.
The Woods Gulch Trail goes up.  It is a tough grind up on a bike.  In the last few years there has been a new bridge added and an extension of the trail has been added to eliminate a fairly steep section of the trail.  This addition added a very rocky shale section.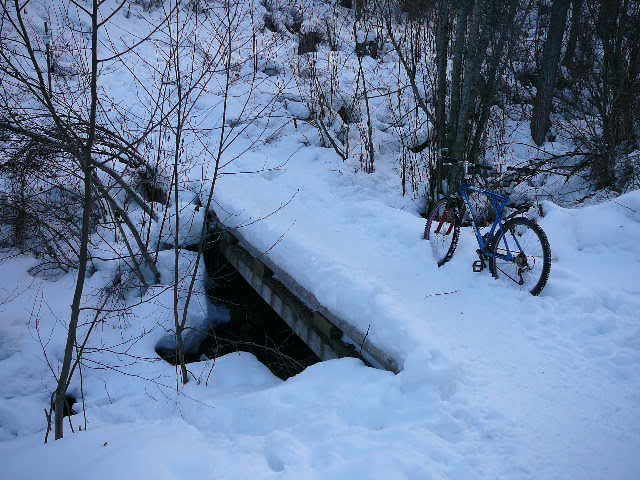 The Bridge on the Woods Gulch Trail February 2009. This is as far as I got up the trail, the snow made it a lot of work.
This is one of my favorite workout climbs.  The climb is all ride able but it is a good chunk of work. 
As you get near the top there is a split in the trail both splits end up on the old logging road. The right hits the logging road and then continues up toward Sheep mountain. If you look off to the right on the logging road you are overlooking the old Marshall Ski Area.
Going right on the logging road will take you down to the Marshal Canyon road. Going left on the logging road will take you to the Three Larch Trail.
Rick Kern